PP/PE Multilayer Composite pipe making machine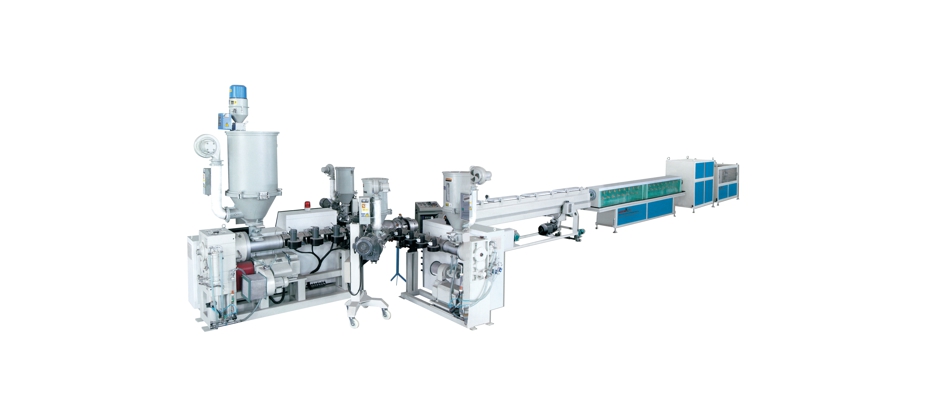 main parameter:
Pipe range(mm)

ABA16-63

ABA50-125

ABA75-160

ABA110-250

Host model

SKR-SJZ45/33

SKR-SJZ45/33

SKR-SJZ50/33

SKR-SJZ65/33

SKR-SJZ55/33

SKR-SJZ65/33

SKR-SJZ75/33

SKR-SJZ75/33

Production speed(m/min)

4-15

3-10

2-8

2-8

Max capacity(kg/h)

120

250

350

450

Total power

60

95

150

230
Remark: specifications and standard equipment will be subject to change without notice.
Equipment characteristics:
This production line is manufactured with Germanic newest technology, which is designed and manufactured based on the unique processing performance of PP-R,PP-B,PE-ER,PEX, with high torque reducer, new slotting barrel, and LTM high-efficiency screw, it owns the advantages as high extrusion capacity, low material melt temperature, and low temperature plasticizing .
The PP-R,PP-B pipes through National chemical testing can reach international GB/T-18742.2-2003 standard, and the PE-PT,PEX pipes can reach international GB/T-18992.2-2003 standard.
This production line consists of control system, extruder, head die, sizing system, traction cutting machine, printer and stacker or winding machine. Making a little change to the production line, collocated with different molds, screw and ancillary facilities, can produce PE,ABS,PE-RT,PEX pipe and two different material plastic composite pipe. High-end machine adopts PLC and large-screen color display control system, which is high degree of automation.