PVC Special-shaped profile production line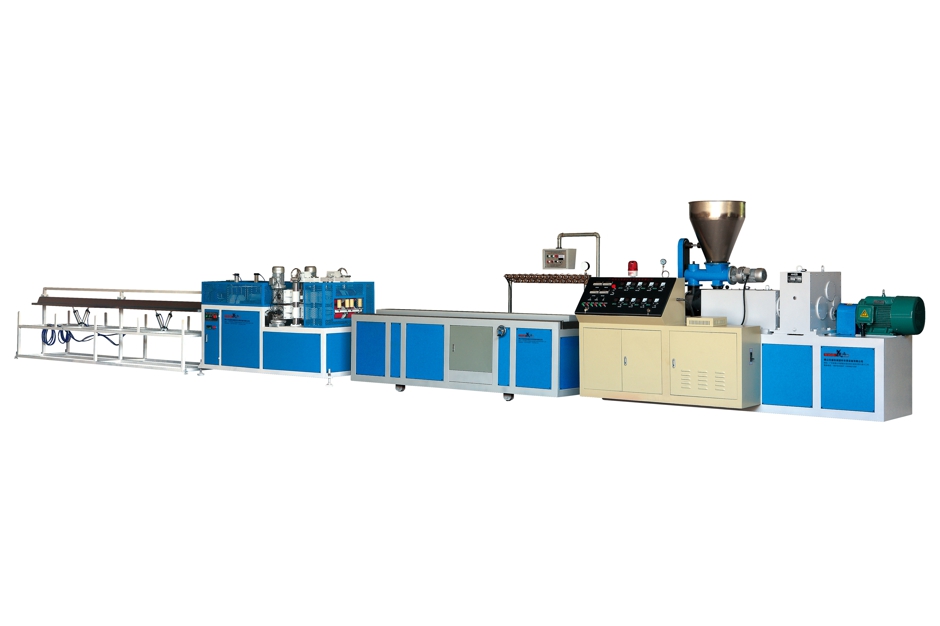 main parameter:
| | | | | | |
| --- | --- | --- | --- | --- | --- |
| Model | SKR-SJZ51 | SKR-SJZ55 | SKR-SJZ65 | SKR-SJZ80 | SKR-SJZ92 |
| Motor power | 18.5 | 30/22 | 37 | 55/75 | 90/110 |
| Screw diameter(MM) | 51/105 | 55/120 | 65/132 | 80/156 | 92/188 |
| Number of screw | 2 | 2 | 2 | 2 | 2 |
| Rotation speed(R/MIN) | 40 | 38 | 36 | 34 | 34 |
| Screw torque(N) | 6100 | 7200 | 10300 | 14300 | 32800 |
| Extrusion capacity(KG/H) | 150 | 180 | 280 | 480 | 650 |
| Center height(mm) | 1000 | 1000 | 1000 | 1100 | 1000 |
Remark:If any change of the specification and standards,will not be noticed.
Equipment characteristics:
Applications: Mainly used for PVC window profiles, window panels, porous conduit extrusion(four holes, six holes, seven holes, nine holes, etc.).
Features: According to different profiles sections and dies, PVC profile series production line can choose different specifications of co-rotating (conical) twin-screw extruders, and configure the appropriate vacuum forming table, traction machine, cutting machine, stacker and other auxiliaries. Host extrusion capacity can be chosen during 120kg/H---650kg/H. Tractor uses our unique lift technology, which has steady work, good reliability and great traction. Vacuum setting has adopted special extra vortex cooling system, reasonable design, stable operation, length can be automatically cut, and equipped with dust recovery unit. According to different molds, the forming table has the choice as 4m,6m,8m,10m and other specifications.