PVC Composite profile production line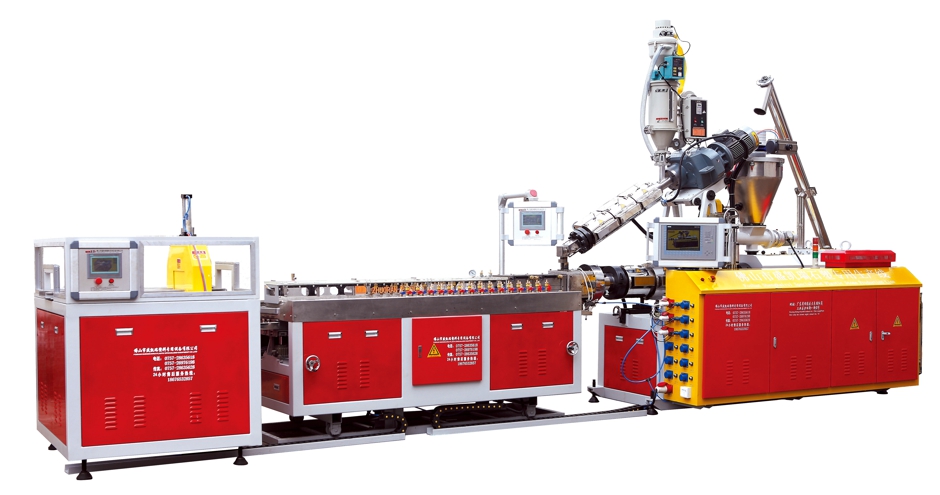 main parameter:
| | | | | | |
| --- | --- | --- | --- | --- | --- |
| Model | SKR-SJZ51/105 | SKR-SJZ55/120 | SKR-SJZ65/132 | SKR-SJZ80/156 | SKR-SJZ92/188 |
| Motor power(KW) | 18.5 | 30 | 37 | 55/75 | 90/110 |
| Screw Diameter(mm) | Ø51/105 | Ø55/120 | Ø65/132 | Ø80/156 | Ø92/188 |
| Number of screw | 2 | 2 | 2 | 2 | 2 |
| Rotation Speed(r/min) | 40 | 38 | 36 | 34 | 34 |
| Extrusioncapacity(kg/h) | 120 | 150 | 250 | 450 | 650 |
Remark:If any change of the specification and standards,will not be noticed.
Equipment characteristics:
1、PVC stone plastic not only has performance as stone powder's water insoluble and fire-proof,also has characteristics as PVC material's flexibility,wear-resisting and bend-resisting.The earliest stone plastic widely used for floor,now has develop to human's activity space.Shengkairui has a lot of experience to stone plastic production and developing ,and has launched all kinds stone plastic profile equipments,such as stone plastic profile,big plate,background wall panel,skirting line,window line and many other marble-imitated plastic extrusinon equipments.
2、Shengkairui has developed the newest marble-imitated plastic profiles co-extrusion production line,which consists of a twin-screw extruder with a co-extruder,material go by co-extruding molds to become product,which via water-printing,no need to spray paint on surface,then can print out all kinds marble pattern directly,it is effective to save cost,reduce labor,more easy for product's installation and transportation,which can reduce 20%-30% cost than arrtificial marble.
Applications:
This production line is mainly used for producing marblr-imitated pattern decorative line,polymeric decorative line,nanotechnology line,microlite line,background line,skirting line,decorative panel,calcium-plastic floor,marble pillar,foaming line,PE wood-plastic and other artificial profiles.
Equipment brief:
This production line using the PVC plus calcium powder as raw material,after high speed and uniform stirring,via twin-screw extruder,mold,cool forming,high temperature plasticizing,produce high intensity and high fiber firm base material;then laminate polymeric to the surface,via water-printing(after extruding and forming),or online heat-printing,then become all kinds different marble pattem.